| | |
| --- | --- |
| Genre | House, dance, electronic, trance, israeli |
OFFER NISSIM est un D.J. israëlien de tribal-house né en 1964 à Tel Aviv.
Il produit les chanteuses DANA INTERNATIONAL et MAYA SIMANTOV et remixe MADONNA, OFRA HAZA, DONNA SUMMER, DEBORAH COX et KRISTINE W. OFFER partage sa vie entre New York aux USA et Tel Aviv.
When it comes to a unique line of music, which brings together different audiences from all over Isreal, the name Offer Nissim immediately comes to mind. The DJ, producer and musical remixer has established, during the course of the past 25 years, A name as one of the most prominent and leading musical creators in the nation's club scene, and for good reason.
Offer Nissim's name precedes him, making him the most sought after DJ in the Israeli club scene. He has established himself as a cultural hero, enjoying the success of two double albums, and responsible for the musical production and success of Dana International - The Israeli Diva who won first place in the 1998 Eurovision song contest. In recent years, Offer Nissim has become a well known face, with countless interviews in the Israeli press, as well as in foreign television stations such as CNN and MTV, which recently has even broadcasted his hugely successful live concert from Israeli's most southern city, Eilat.
DJ Offer Nissim's meteoric rise and formation of his huge fan following started totally by accident when in 1979, the 15 year old DJ played his first ever live club set after being asked to replace a DJ that failed to show up. Since then, and over the years, the mega DJ has played in dozens of clubs across Israel, such as the "Forum", "Ha-Oman 17", "Alenby 58" and for the past few years in the "TLV" as the resident of the "FFF" - the most successful line of gay parties in Israel, which is owned by the colorful night life figure, Shimon Shirazi.
Nissim's musical creativity and talent reached international recognition in the 1998 Eurovision song contest with Dana International's breath taking winning performance of his master piece hit "Diva". These two talents collaborated for 8 years, during which time other great hits were released by the great Diva and Nissim's unique touch, such as "Good Night Europe", " I Can't Be Without You " and "Saida Sulatana". But it was " Diva" which hit the top of the international charts all over the world and became a worldwide hymn, long after the Eurovision contest had ended.
Ever since that success, Offer Nissim's music career had evolved and from music producer and remixer, he became a world renowned music creator. A few months ago he signed with leading and prestigious New York Label "Star 69", owned by the world leading music producer and DJ, Peter Rauhofer. Nissim and Rauhofer crossed paths mostly due to Nissim's latest work with the young Israeli singer Maya Siman-Toy, also Knwon as "Maya".
Nissim and Maya's hits appear in his second album, "Searching", which was released in March 2004, and which contains remixes by some of the world's biggest DJs, such as Peter Rauhofer, Victor Calderone, Robbie Rivera and Danny Tenaglia. The latest track by Offer Nissim featuring Maya, "That's The Way I Like It", was introduced into Peter Rauhofer's specially created CD for the fashion label "Georgio Armani", right after a track by the singer Madonna.
From Offer Nissim's first album "Excited", which was released in August 2002. The tracks which were to become most memorable and significant hits would be "I'm So Excited", performed by the Israeli singer Mikiagi, and "Maaual", performed by the most famous Israeli female singer, Rita.
DJ Offer Nissim's latest track, "Searching", featuring his newest talent Maya, is a huge dance club hit in Dance Charts all over the world.
Besides him being the resident of the successfull "FFF" party line at the "TLV" club in Tel-Aviv. He has also became an icon among music lovers all over the country, which named him best israeli DJ of 2004 in a contest held by the music newspaper "DJ HA-IR". In that same contest, the FFF parties by Shirazi won the prize for the best party in Israel for 2004.
Offer Nissim's electrifying and winning presence has become long time household name among Israeli clubbers in general, and gay clubbers in particular. Nissim's performance, which combines sweeping moves with an energetic atmosphere, creates a very unique link between himself and his audience, which he has captivated for years and which will continue following him for many more years to come.
Written by DVIR BAR.
Source
Top Titres
1
First Time
2
For Your Love (Sied Van Riel Remix)
3
Only You
4
Alone
5
Searching
6
Everybody Needs a Man (feat. Maya Simantov) - Radio
7
That's the Way I Like It
8
Everybody Needs a Man (feat. Maya Simantov) - Club
9
Cha Cha Cha (Peter Rauhofer NYC Edit)
10
Intro
Top Albums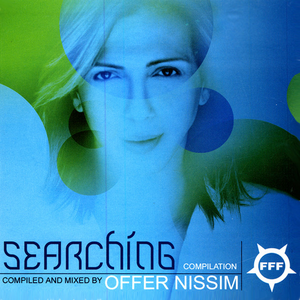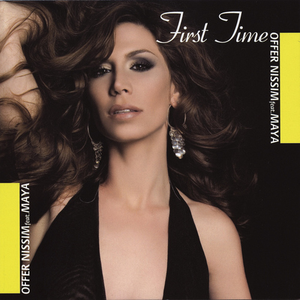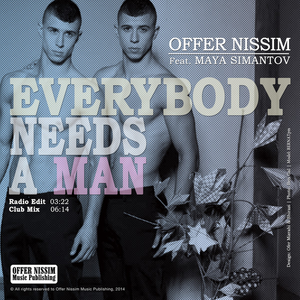 Everybody Needs a Man (feat. Maya Simantov) - Single
pistes